Start-up Grants 2022: Johanna Strobl and Konstantinos Mengrelis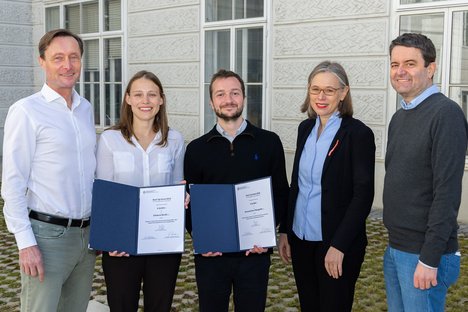 Johanna Strobl and Konstantinos Mengrelis receive funding for their projects on stem cell transplantation and bone marrow infusion, respectively.
About the project of Johanna Strobl
Allogeneic hematopoietic stem cell transplantation is an important therapeutic option, especially for malignant diseases of the hematopoietic system. Its success is largely determined by the prevention of severe rejection reactions (graft-versus-host disease) while maintaining donor T cells to displace leukemic cells (graft-versus-leukemia effect). Although epigenetic regulation of T cells has drastic effects on their development, stability, and function, and thus represents a potential means of tolerance induction, it is poorly understood in the context of stem cell transplantation.
In the context of her project, Johanna Strobl is therefore first investigating the epigenetic and transcriptional regulation of donor and recipient T cells in the course of stem cell transplantation. The results will discover possible starting points for fine-tuning the immune response by epigenetic modeling. Subsequently, the effect of epigenetically active drugs, for example inhibitors of histone deacetylases, will be tested ex-vivo on isolated cells from patients after stem cell transplantation. Overall, Strobl hopes that this project will reveal new supportive therapies to increase the safety of stem cell transplantation.
About the person
Johanna Strobl is an assistant physician at the University Department of Dermatology and is currently on a Clinician Scientist Research Fellowship at the Sanger Institute in Cambridge.
In 2020, she completed her PhD studies in the field of immunology, during which she focused on resident T cells of the skin in allogeneic stem cell transplantation. As a post-doctoral researcher in the group of Georg Stary, she has since published on the circulation of lymphocytes in graft-versus-host disease and researches immunological mechanisms of infectious skin diseases.
About Konstantinos Mengrelis' project
The project addresses crucial questions of an ongoing prospective phase I/IIa clinical trial conducted at the Medical University of Vienna. In this study, Treg therapy is used together with donor bone marrow infusion and aIL-6R (tocilizumab) treatment to induce transient chimerism in recipients free of myelosuppression (EudraCT No 2018-003142-16). Konstantinos Mengrelis will use single cell sequencing to investigate how autologous expanded Treg cells control NK cell responses, facilitating early bone marrow engraftment.
The long-term goal is to further investigate the fundamental interactions between Treg cells and NK cells to contribute to the development of novel therapeutic interventions following allogeneic BMT. This will help to mitigate BMT protocols in reduced intensity conditions where myeloablation is unnecessary overall.
Personal details
Konstantinos Mengrelis completed his MSc at Imperial College London in Molecular Medicine (2010) and PhD at University College London (2016). He focused on the influence of "Hedgehog Signaling" on T cell development. As a postdoctoral fellow, he continued his research at the same institute, where he investigated the role of Treg cells in transplantation and autoimmunity. Currently, he is working in the research group of Thomas Wekerle at the Clinical Department of Transplantation of the University Department of General Surgery of MedUni Vienna.