Start-up Grants 2021: Dagmar Kollmann and Hannes Vietzen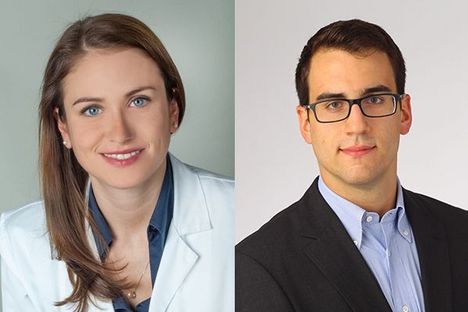 Dagmar Kollmann (University Hospital for General Surgery, Clinical Department for Transplantation) and Hannes Vietzen (Center for Virology) have been awarded the Start-up Grants 2021 after independent evaluation by the Board of the Frogging Platform Transplantation.
About the project of Dagmar Kollmann
Dagmar Kollmann studies liver function and bile production of primary rejected livers perfused normothermally with added taurocholic acid or norUDCA. Especially the damage of the bile ducts during preservation often leads to severe complications after transplantation. The results of this study will help to optimize the quality of donor livers on the machine and to improve damaged bile ducts therapeutically.
About the person
Dagmar Kollmann works as a surgeon at the University Department of Surgery. After completing the PhD in Immunology in 2016 as part of the MDPhD Excellence Program, she completed a two-year post-doctoral research fellowship at the Toronto Organ Preservation Laboratory in Canada. There, she was able to conduct numerous studies on machine perfusion of the liver. After her return, the know-how acquired there helped to establish liver perfusion for clinical application in Vienna.

About the project of Hannes Vietzen
Infections with persistent human cytomegalovirus (HCMV) are associated with serious complications in lung transplant patients, such as an increased risk of acute and chronic graft rejection. In transplant patients, HCMV infections lead to the expansion of NKG2C+ natural killer (NK) cells, which are part of a characteristic HCMV-specific imprint into the human immune system.
Although expansion of NKG2C+ NK cells is essential for fighting HCMV infections, they may also play an important role in NK cell-associated antibody-dependent lung transplant rejection responses.
In the course of the project, Hannes Vietzen will investigate the interplay of UL40-encoding HCMV strains, NKG2C+ NK cell expansion and the risk for humoral rejection. This should not only lead to a deeper understanding of HCMV- and allograft-specific immune responses, but could also provide new approaches for the early identification of patients at risk.
About the person
Hannes Vietzen first graduated in Biological Sciences at the University of Konstanz, followed by a Master's degree in Molecular Microbiology, Microbial Ecology and Immunobiology at the University of Vienna, which he completed with distinction. In the course of his PhD studies in the Program for Organ Failure, Replacement and Transplantation Medicine under the supervision of Elisabeth Puchhammer-Stöckl at the Center for Virology, Medical University of Vienna, he focused on HCMV-specific immune responses in transplant patients. Since graduating in May 2020, he has been working as a post-doc on elucidating antiviral immune responses against persistent viral infections in transplant patients.